New homes planned in open countryside while brownfield sites lies idle
The Government's reforms in 2012 to planning have made it easier for developers to gain permission to build on open countryside and Green Belt. Local Plans propose to build almost 300,000 homes on our Green Belt. We don't need to sacrifice the countryside when we have brownfield land in our towns and cities that could be regenerated to provide housing.
In 2014 we worked with the University of the West of England to find out how much brownfield land could be used for new housing. Our research, From wasted spaces to living spaces, found that local authorities have identified enough brownfield land for at least 960,000 homes.
More recently, we analysed the results of a pilot study into the development of Brownfield Registers. We extrapolated the results from 53 local authorities which suggest that there is space for at least 1 million new homes on brownfield -- the equivalent of at least four years supply of housing. This could save thousands of acres of beautiful countryside from being lost forever.
We've also found that as brownfield sites are developed, new sites are continuing to become available. We could make more efficient use of existing sites, for example, by building mixed-use developments and relegating unsightly car parking underground. Building homes close to where people live and work and with good transport links is good for the environment too.
Breaking the barriers to brownfield development
Recent reforms to planning have made it easier for developers to gain planning permission on greenfield sites while brownfield sites lie idle. The reasons being justified are that developers need economically viable land that they can easily develop and turn a profit.
Brownfield land is often in the right place, near to where people live and work but may involve more preparation by the developer, such as demolishing or renovating old buildings or cleaning up industrial land. We believe the Government should do more to encourage brownfield development.
Our way forward, to making brownfield first
CPRE calls on local authorities to:
- Be more proactive in identifying small brownfield sites
Town and parish councils, neighbourhood planning bodies and local amenity societies are well-placed to help with the identification of suitable small brownfield sites.
- Ensure that only suitable brownfield sites are recorded on Brownfield Registers
Sites with an unsustainable location or high environmental or heritage value may be unsuitable for development. An annex of rejected sites would enable this process to be transparent.
CPRE calls on the Government to:
- Amend the NPPF
Suitable brownfield sites should in urban areas should be priorities over greenfield, particularly in areas where there are both brownfield sites and competing greenfield sites. Local councils and the Government must refuse permission for greenfield sites where there are suitable brownfield sites available.
- Prioritise brownfield sites for site planning and any public funding to bring forward new housing
- Push for more housing completions and permissions
A commitment for the proportion of sites on which development should have commenced would be a major step forward in addition to the commitment to have planning permission on 90% of suitable sites by 2020.
- Guide local authorities to identify suitable brownfield sites
- Provide support to smaller house builders and self- and custom-builders
Targeted funding mechanisms will help overcome the initial high costs of brownfield development.
- Recognise that Brownfield Registers show a pipeline of potential regeneration opportunities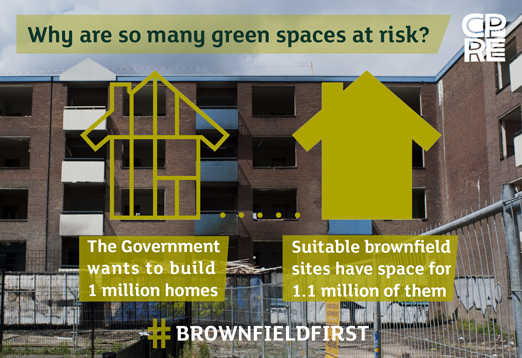 ---
Find out more

---
Two ways you can help save our countryside


Support our campaign with a donation
By donating you can help us persuade politicians of all parties to adopt more enlightened and innovative policies to unlock more brownfield sites for development. You can help us secure the changes to national planning policies that are essential if we are to build the housing we need while also limiting destruction of our green fields.

Join CPRE and help your local group
CPRE has a local group in every county, standing up for the countryside. By joining your local CPRE group you could help fight local campaigns and make a difference where you live.